The exact origin of chess is a mystery. The oldest clearly recognizable Chess pieces have been excavated in ancient Afrasiab, today's Samarkand, in Uzbekistan. These are seven ivory pieces from 762, with some of them possibly older, meaning that they stem from the 6th to 8th century AD. It is not clear whether one of the pieces can be identified as a Queen.
The precursors of chess originated in India during the Gupta Empire, where its early form in the 6th century was known as chaturaṅga, which translates as "four divisions. Chess was introduced to Persia from India and became a part of the princely or courtly education of Persian nobility. Chess passed from Persia to the Arab world, where its name changed to Arabic shatranj .The oldest known Chess books or parts thereof are in Arabic, written about 850 AD. Shatranj made its way via the expanding Islamic Arabian empire to Europe. It also spread to the Byzantine empire, where it was called zatrikion.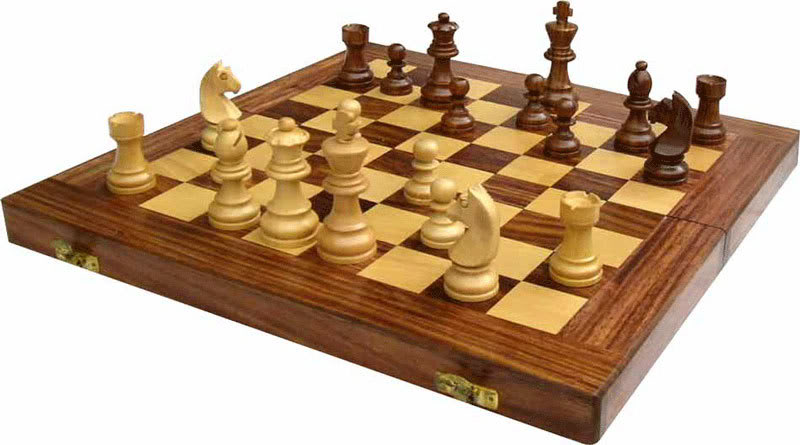 The form of chess which finally arrived in Europe was already being played in Persia some 1,350 years ago, when that area of the world was conquered by Muslim armies in the mid 7th century. The popularity of chess in the Western courtly society peaked between the 12th and the 15th centuries.
The practice of playing chess for money became so widespread during the 13th century that Louis IX of France issued an ordinance against gambling in 1254. The first informal international chess tournament took place in 1575. In 1770, the Hungarian inventor Wolfgang von Kempelen unveiled the Mechanical Turk, an automatic chess-playing "machine" that entertained and bewildered audiences by defeating strong human opponents. The Englishman Howard Staunton was arguably the strongest player in the world from 1843 to 1851.
Save
Save
Save
Save
Save
Save
Save
Save
Save
Save
Save
Save
Save
Save
Save